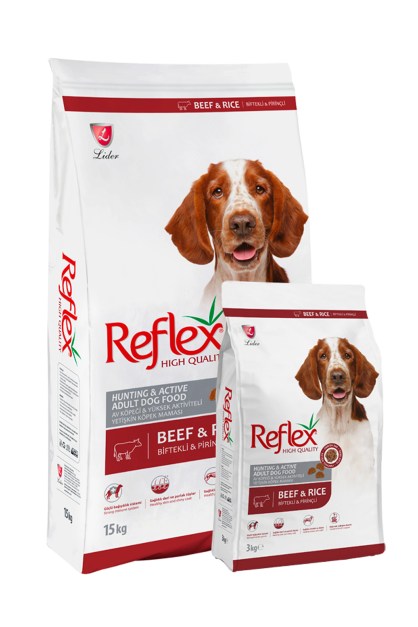 Product Information
Reflex Premium Adult Dog Food High Energy – Beef 3Kg

Reflex Adult Dog High Energy is a premium, all natural beef dog food with full and balanced beef protein formulated by dog nutritionists to meet the daily nutritional needs of adult and intense / high energy dogs.

Ingredients: Processed Animal Protein, Wheat, Corn, Animal Oil, Wheat Clove, Corn Gluten, Dried Sugar Beet, Liver Flavour, Salt, Flax Seed, Dry Beer May.

Minerals: Calcium, Phosphorus, Sodium, Iodine, Zinc, Copper, Potassium Chloride, Iron, Selenium.

Vitamins: Vit. A, Vit. D, Vit. E, Vit. C, Vit. B1 – B2 – B3 (Niacin) – B6 – B12 – B7 (Biotin) – B9 (Folic Acid), Vit. K, Choline, Calcium Pantothene.

NUTRIENT COMPONENTS
Raw Protein * …………….. 32%
Crude Fat ………………….. 14%
Crude Ash …………………… 2%
Crude Cellulose (Fiber) ….. 3.5%

FEEDING
INGREDIENTS Vitamin A (E672) …… 18,000 IU / kg
Vitamin D3 (E671) ………………………… 1,500 IU / kg
Vitamin E (3a700) ) …………………….. 150 mg / kg
Vitamin C (Stay C) ……………………… 200 mg / kg

Additional Tips

Always keep clean and fresh water near the food bowl. Change it at least once a day.
Store the product in a dry and cool place, and be sure to close the packaging thoroughly after each use.