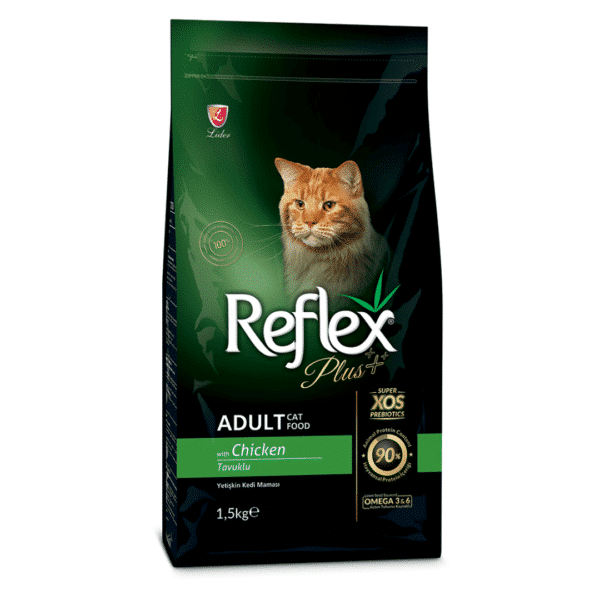 Product Information
REFLEX PLUS PREMIUM ADULT CAT FOOD – CHICKEN 1.5KG

Reflex Plus Adult Cat – Chicken is a super premium cat food for all adult cat breeds. It is a highly palatable formulation with chicken protein and oils. It is enhanced with the super pre-biotic Xylo-oligosaccharide (XOS) that helps with glycemia, immune function and superior digestion.

Ingredients: Processed Chicken Protein, Corn, Chicken Oil, Rice, Sugar Beet, Liver Flavor, Vitamins and Minerals, Flax Seed, Xylo-Oligosaccharide, Brewer's Yeast, Salt, Yucca Schidigera, Preservatives – Antioxidants

Minerals: Calcium, Phosphorus, Sodium, Iodine, Zinc, Copper, Iron, Selenium.

Vitamins: Vit. A, Vit. D, Vit. E, Vit. C, Vit. B1 – B2 – B3 (Niacin) – B6 – B12 – B7 (Biotin) – B9 (Folic Acid), Vit. K, Choline, Calcium Pantothene.

NUTRIENT COMPONENTS
Raw Protein * ………………….. 33%
Crude Fat …………………….. 14%
Crude Ash. ……………………….. 7%
Crude Cellulose (Fiber) ………. 2%

FEEDING
INGREDIENTS Vitamin A (E672) …….. 18,000 IU / kg
Vitamin D3 (E671) ………………………….. 1,500 IU / kg
Vitamin E (3a700) ) ………………………200 mg / kg
Vitamin C (Stay C) ………………………….. 200 mg / kg
Taurine ………………………………… 1,500 mg / kg

Feeding Suggestions

The amount of food to be given per day may vary depending on the outdoor temperature, the living conditions (inside / outside the home), the character and activity of your cat.
It is important to weigh the amount of food so that your cat can be an ideal weight.
When adjusting the amount of food, it will be helpful to evaluate your cat's appetite, appearance and odour.

Additional Tips

Always keep clean and fresh water near the food bowl. Change it at least once a day.
Store the product in a dry and cool place, and be sure to close the packaging thoroughly after each use.