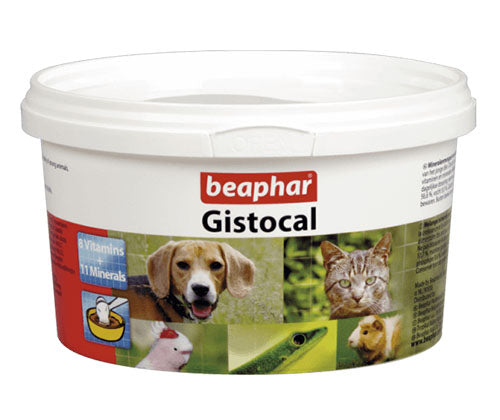 Product Information
Beaphar Gistocal - 250G

Gistocal stimulates the growth and vitality of young animals and helps increase resistance to illness. It helps maintain the health of a full grown animal and prevents premature aging. Gistocal also prevents poor skin condition and itching, caused by shortages in animal feed.
Ingredients
Crude protein 11%, crude fibre 0.6%, crude fat 1.5%, crude ash 61%, liquid 13%, Calcium 22%, Phosphorus 11%, Sodium 1.2%, Magnesium 0.26%, Potassium 0.002%.

Vitamin A is required for resistance to diseases.




Vitamin D3 is essential for strong bones and healthy teeth.




Vitamin E is a biological anti-oxidant.




The B-complex vitamins are essential for the proper development of the nervous system and for a healthy skin with a glossy coat.