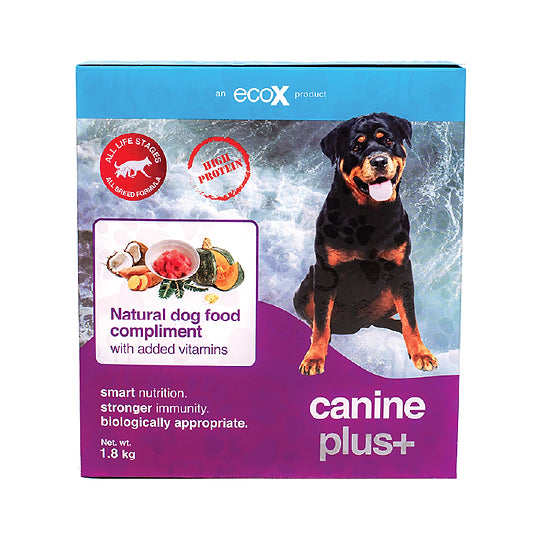 Product Information
Canine Plus+® Original [Liver] 1.8kg

Selected
BIOLOGICALLY APPROPRIATE
and functional ingredients from natural environments based on that nature evolved specifically for canines to eat, Canine Plus+ is formulated into a balanced meal your pet ensuring optimal health and wellbeing.
High in Dietary Protein with inclusion of fresh meats and vegetables.
High alertness and activity.
Stronger joints, bones and teeth.
Packed with natural vitamins and minerals (No synthetic vitamins).
No meals, colourants and phosphates.
Ingredients
Organic vegetables, Cereals, Wild Caught Tuna Fish, Coconut, Chicken Liver, Sugar, Coconut oil, Fish oil, Milk solids, Sea salt, Natural flavours, Natural Preservatives
Guaranteed Analysis
Protein - 20%
Fat - 10%
Fibre - 5%
Canine Plus+® Original Features
#1 Ingredient included is Fresh Vegetables.
Highly Digestible and Biologically Appropriate.
Healthy coat with reduced shedding.
Rich with Omega 3 & 6 Fatty Acids.
No by-products, Only Human-grade ingredients.
Guaranteed Analysis : Protein: 20%, Fat: 10%, Fibre: 5%