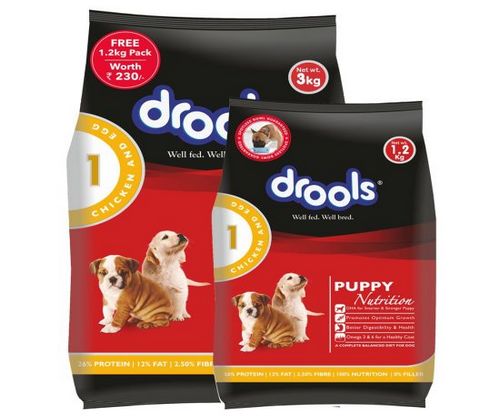 Product Information
Drools Chicken and Egg Puppy Dog Food 400G

For Puppies of all breeds up to 24 months of age
Enriched with nutrients which promotes the brain development and nourishes the nervous system.
A complete and balanced nutrition for puppies which helps in their growth and development.Omega 3 and 6 Fatty acid for healthy coat.
A complete and balanced diet which delivers all the nutritional value to your canine. It is formulated with balanced ratio of protein and fat that your pet needs in every meal. It is highly palatable and encourages healthy digestive system and the tempting taste of this meal will boost the appetite of your pet. We use real chicken which is a clean combination of flesh and skin with or without bone. The other parts such as feathers, head, feet and entrails are strictly not used in our product. Drools chicken and egg puppy dog food is a complete and balanced diet formulated for all breeds. It is highly palatable and loaded with goodness that any breed of canine will love.
Real chicken our #1 ingredient is used in this food
Enriched with nutrients which promotes the brain development and nourishes the nervous system
A complete and balanced nutrition for puppies which helps in their growth and development
Prepared with special ingredients which is highly palatable and easy to digest
Vitamins, antioxidants and other essential ingredients support a strong immune system
Thoroughly checked by nutritional laboratories to meet all the quality parameters and safety of the product