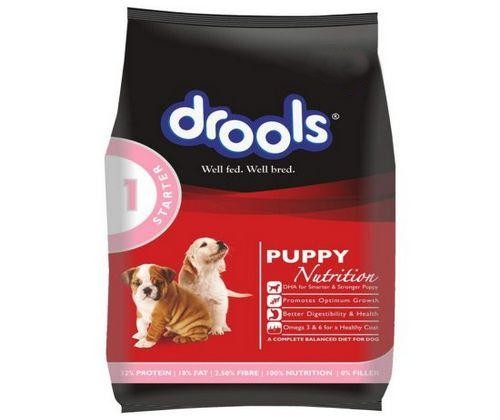 Product Information
Drools Dog Food Starter 10Kg - Mother and Puppy (Large Breed)

For Puppies of all breeds from 21 days to 3 months of age, and for Pregnant and Lactating Females
HEALTHY PUPPIES
Weaning is considered to be stressful as the puppies shift from mother's milk to solid food. Drools Puppy Starter Dog Food is perfect for the optimum mental and physical development of your puppies. It has all the necessary ingredients in right amount to feed your pup with all the required nutrients.
SUPPORT TO FEMALE DOGS
A nursing female dog or the one about to give birth needs much nourishment and care as there are pups depending on her. Drools Puppy Starter Dog Food is a supportive food that can be given to female dogs for the extra energy and nourishment that she needs for milk production and feeding her puppies.
MAINTAINS OVERALL WELL BEING
The perfect blend of all the necessary nutrients makes this starter food the secret to overall well-being of your pet. It maintains good digestion, strong bones & muscles while keeping their skin healthy. It takes care of your pet and makes sure that the fur never loses its shine.

Complete & balanced diet for mother & pup
Help gradual transition from mother milk to solid food
High quality protein
Feed start from 3 weeks to 3months
All breed formula