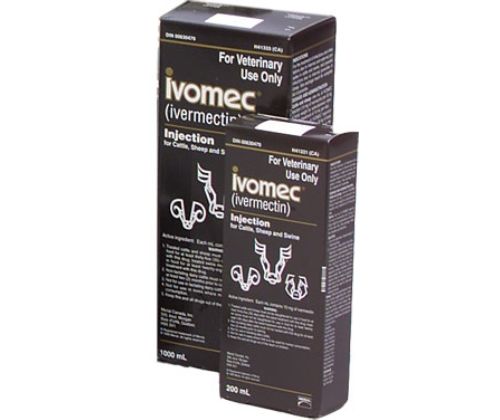 Product Information
Ivomec Injection Treatment 100ML

IVOMEC Injection is indicated for the treatment of the following parasitic infections and infestations in swine:

Gastrointestinal roundworms: Large roundworms, Ascaris suum (adults and L4); Red stomach worm, Hyostrongylus rubidus (adults and L4); Nodular worm, Oesophagostomum spp. (adults and L4); Threadworm, Strongyloides ransomi (adults and somatic larvae)
Somatic Threadworm Larvae (Strongyloides ransomi). Sows must be treated at least seven days before farrowing to prevent infection of piglets.
Lungworm: Metastrongylus spp. (adults)
Lice: Haematopinus suis 
Mites: Sarcoptes scabiei var. suis

DOSAGE AND ADMINISTRATION – SWINE: 
The recommended dose level is 1 mL of IVOMEC® Injection per 33 kg of body weight (300 µg of ivermectin per kg of body weight). The recommended route of administration is by subcutaneous injection in the neck. The solution may be given with any standard automatic or single-dose equipment. In young pigs, especially those below 16 kg for which less than 0.5 mL of IVOMEC® Injection is indicated, dosing accuracy is important. The use of a syringe that can accurately deliver as little as 0.1 mL is recommended. Use aseptic technique. 
Rapidly kills fleas
Kills paralysis ticks for a full month
Treats and controls demodectic mange, sarcoptic mange and ear mite infestations
Prevents flea tapeworm infestations
Tasty oral chew, not affected by bathing or swimming