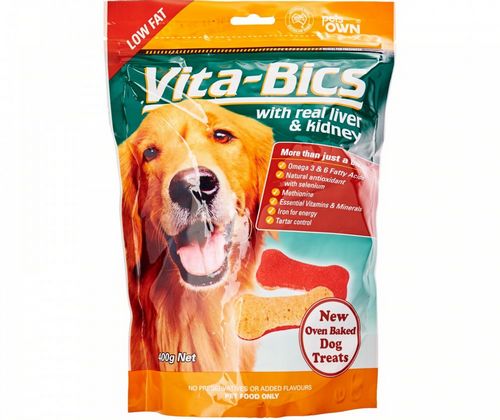 Vita-Bics Liver & Kidney are one of the most liked treat of dogs.


These treat is rich in all the necessary nutrients of a dogs diet like Omega 3 & 6 Fatty Acid.


Dogs love different tastes in their diet and these treat fulfill this need. Vita-Bics Liver & Kidney treat is very much helpful in curing from skin diseases helps in coating of wounds, healing of wounds and liver health.


100% Natural 3 healthy flavours. No colouring, additives and preservatives Strength immune system Low fat & delicious Deter parasite and worms Slowly baked for delicious crunch & texture Suitable for dogs of all sizes and ages Essential for your dog's optimum health Rich in nutrients, dietary fibre, minerals, antioxidants and vitamins.