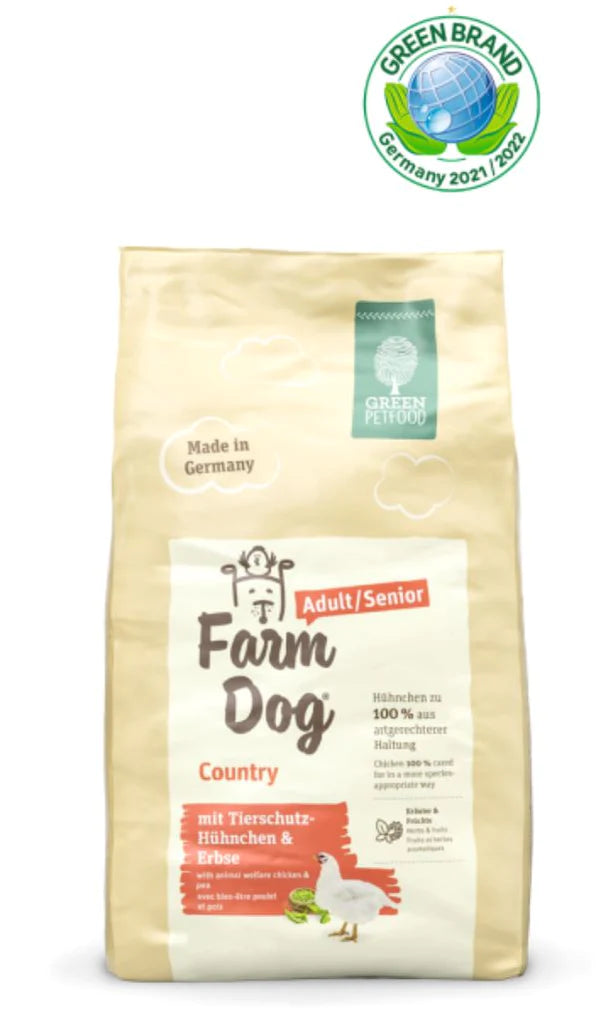 Product Information
Josera FarmDog Country 900g - with animal welfare chicken & peas
Gluten-free complete food for adult or older dogs

With humanely bred chicken, peas, herbs and fruits

Taurine and L-carnitine support the functioning of the heart while valuable antioxidants can combat cell ageing.

Climate-positive: through our forest conservation project in Tanzania, we compensate for 125% of our CO2 emissions.
Product Details:
Let's go to the countryside: Our FarmDog Country offers a delicious change to the diet of your fully grown four-legged friend thanks to animal welfare chicken, pea, herbs and fruits. But seniors' needs are met as well: Taurine and L-carnitine support healthy heart function and, in addition, valuable antioxidants can counteract cell aging. In the gluten-free recipe , we consciously rely on chicken which grows up under more natural living conditions. Thus, your dog actively contributes to animal welfare!
Complete feed for adult dogs.

Chicken 100 % cared for in a more species-appropriate way
Composition:
dried chicken protein from a more species-appropriate husbandry 23.0 %; rice; pea flour 21.0 %; whole grain corn; chicken fat from a more species-appropriate husbandry; beet fibre; partially hydrolysed yeast; minerals; apple fibre; ground chicory root (natural source of inulin); herbs, fruits.
Feeding Recommendations:
Why does our FarmDog chicken live more species-appropriate?
30% more coop space
Natural coop environment: activity opportunities such as picking stones & bales of straw, winter gardens or open stables, perches and bedding for scratching and sand bathing
Slow rearing
No genetically modified animal feed used