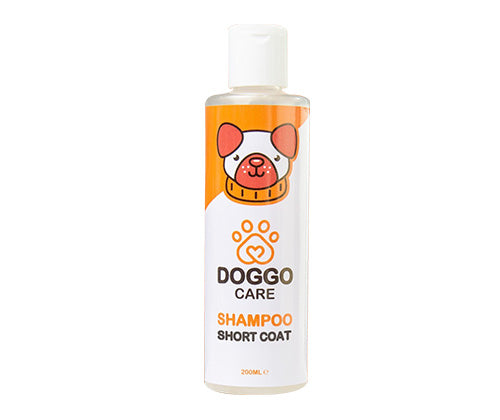 Product Information
Doggo Care Dog Shampoo - Short Coat  - 200ml
Why get it?

Doggo Care is the first Sri Lankan made, cruelty-free, vegan, harsh chemical free and gentle dog shampoo to ensure safe and effective cleaning of dog fur.

Why you'll love it!

Enriched with Chlorohexidine Gluconate - clean, soothe and repair the skin barrier after a skin infection, Aloe Vera Extract to moisturize, nourish and condition dog's hair, Rose Essential oil to add pleasant scent and provide calming effects seeping into the skin of the dog, Cocamidopropyl Betaine, Decyl Glucoside, Sodium Lauryl Sulfoacetate, Glycerine to moisture dog's fur and protect it from the elements while soothing the skin, Phenoxyethanol, Carbomer to act as a thickener and Aqua (DI Water) as a solvent.

How to use:

1. Dilute the shampoo with lukewarm water.
2. Meanwhile, wet your dog with running water.
3. Shampoo twice if required, to get rid of all dirt and oil in the fur.
4. Use a gentle loofah or sponge to spread the shampoo.
5. Avoid getting shampoo and water in sensitive areas such as your dog's ears, nose and eyes.
6. Use a washcloth to gently clean your dog's face.
7. Rinse well until there is no more product left on fur.
Ingredients & Benefits - Short Coat 
I. Chlorohexidine Gluconate Chlorhexidine is a very effective antiseptic and disinfectant used for skin conditions caused by microorganisms and bacteria. This helps to promote healthy skin and coat.
II. Aloe Barbadensis (Aloe Vera) Leaf Extract Soothing, Cooling and anti- inflammatory properties of Aloe Vera helps to replenish the natural moisture balance of dog's skin and coat while reducing skin odors.
III. Rosa Damascena (Rose) Flower Oil Other than the calming effect provides on dog, helps to nourish and revitalize pet's skin.
Product of British Cosmetics