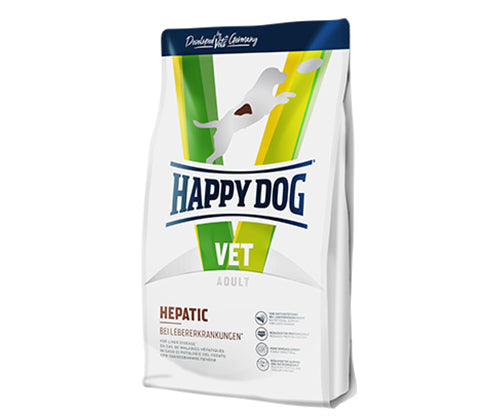 Product Information
Happy Dog VET Diet Hepatic - nutritional support for liver disease

Vet-recommended special diet

Happy Dog VET Hepatic can significantly help to support and relieve stress on the liver in dogs with chronic liver disease. A moderate amount of high-quality proteins with a high energy content effectively reduces the burden caused by harmful metabolic products. The ingredients are carefully selected: easy-to-digest rice, tasty salmon and milk thistle to protect the liver. This balanced recipe guarantees an optimum supply of nutrients. The vitamin and trace element contents are matched to the special needs of dogs with impaired liver function.
Happy Dog VET Hepatic can be used for the following indications: for liver disease, hepatic encephalopathies, portosystemic shunt or copper storage disease. Happy Dog VET Hepatic has a moderate protein and copper content. High protein digestibility helps to support protein metabolism; in particular, the amino acid profile of this complete food is specially optimised for pets with liver disease. The diet helps to bind ammonia in the gut, supports the intestinal flora and gut integrity and provides antioxidant protection. Happy Dog VET Hepatic thus supports the liver function in dogs with liver disorders.
Only available on veterinary advice.
This food is not recommended for young animals up to 6 months, pregnant or lactating bitches or pets with hyperlipidaemia or pancreatitis.
Supplementary notes:
* We recommend that you speak to your vet before you start or extend the length of feeding a diet food.
* For best effect, feed the diet food exclusively. Discuss any supplementary nutrition needs with your vet.
* Recommended length of diet: Initially up to 6 months
* Offer several small meals per day unless otherwise recommended by your vet.
* The amount of food should be adapted to suit the individual pet's metabolism, so it may be necessary to reduce or increase the quantity to a certain extent.
* Make sure that fresh water is available at all times.
Composition
Rice flour (52%), rice protein* (9.5%), salmon meal (8%), maize flour, sunflower oil (6%), beet pulp* (desugared), poultry fat, hydrolised liver, apple pomace*, rapeseed oil, cellulose, carrots*, linseed* (0.5%), milk thistle seeds* (0.2%), seaweed*, yeast* (extract), chicory root*; *)
*dried
Analytical Constituents
Crude protein 16.0%, crude fat 16.0 %, crude fibre 3.0%, crude ash 4.5%, calcium 0.45%, sodium 0.2%, potassium 0.45%, magnesium 0.06%, phosphorus 0.4%, chloride 0.5%, sulphur 0.3%, omega 6 fatty acids 5.5%, omega 3 fatty acids 0.6%, copper (total) 6 mg/kg
Additives
Vitamins / kg: Vitamin A (3a672a) 12000 I.E., vitamin D3 (3a671) 950 I.E., vitamin E (all rac-alpha-tocopheryl acetate 3a700) 500 mg, vitamin B1 (thiamine mononitrate 3a821) 5 mg, vitamin B2 (riboflavin) 7 mg, vitamin B6 (pyridoxine hydrochloride 3a831) 5 mg, biotin (3a880) 750 mcg, calcium-d-pantothenate (3a841) 15 mg, niacin (3a314) 40 mg, vitamin B12 70 mcg, vitamin C (sodium calcium ascorbyl phosphate 3a312) 100 mg, L-carnitine (3a910) 900 mg, taurine (3a370) 2000 mg, antioxidant; tocopherol-rich extracts from plant oils 1b306(i). Trace elements / kg: Iron (iron(II) sulphate; monohydrate 3b103) 30 mg, copper (copper(II) sulphate pentahydrate 3b405) 3 mg, zinc (zinc oxide 3b603) 240 mg, manganese (manganese(II) oxide; 3b502) 3 mg, iodine (calcium iodate; anhydrous 3b202) 0.3 mg, selenium (E8; sodium selenite) 0.1 mg