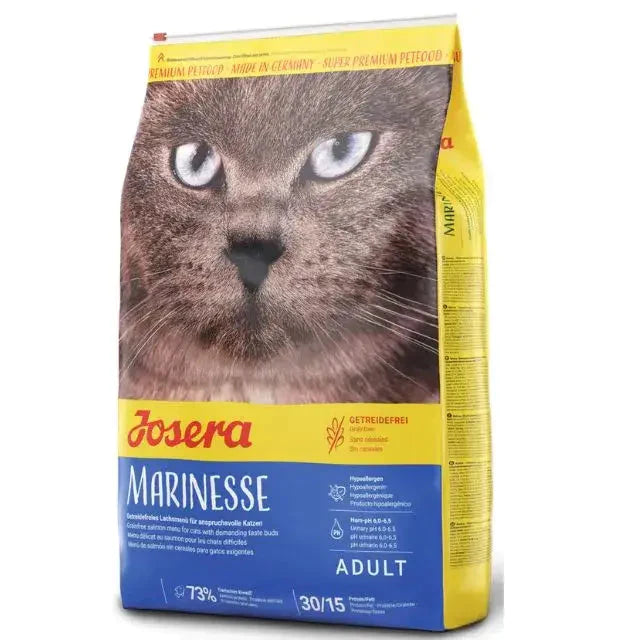 Product Information
Josera Marinesse Cat
JOSERA Marinesse with plenty of delicious salmon is optimal food for cats with a taste for fish. The food is also ideal for cats suffering from feed intolerances. The unique formula contains only well-tolerated proteins and is grain free, making it ideal for sensitive cats.
Salmon, potato, and peas as selected protein sources for the best tolerability
plenty of exquisite salmon (30 %) and a grain-free formula for demanding cats
encourages a pH value of 6.0-6.5 to reduce the risk of urinary stone formation
hypoallergenic and easy to digest
Complete feed for adult cats.
Product benefits
GRAIN FREE
The formula contains no grain and is suitable for the daily grain free nutrition of healthy and sensitive cats.
HYPOALLERGENIC
The selected ingredients and reduced number of protein sources offer an alternative for animals with food intolerances.
URINARY PH 6.0-6.5
A targeted selection of ingredients as well as the best recipes ensure an optimal calcium/phosphorus ratio and reduced magnesium content. This promotes a pH value of 6.0-6.5 which can counter the formation of urinary stones.
weight

amount of food
Marinesse / 24 h

2 - 3 kg

30 - 45 g

3 - 4 kg

45 - 55 g

4 - 5 kg

55 - 70 g

5 - 7 kg

70 - 100 g

7 - 10 kg

100 - 130 g
The recommended feed quantities are given per animal per day.
Always provide your cat with fresh drinking water.
Analytical constituents

protein

30.0 %

fat content

15.0 %

crude fibre

2.2 %

crude ash

6.9 %

calcium

1.20 %

phosphorus

1.00 %

magnesium

0,65 %