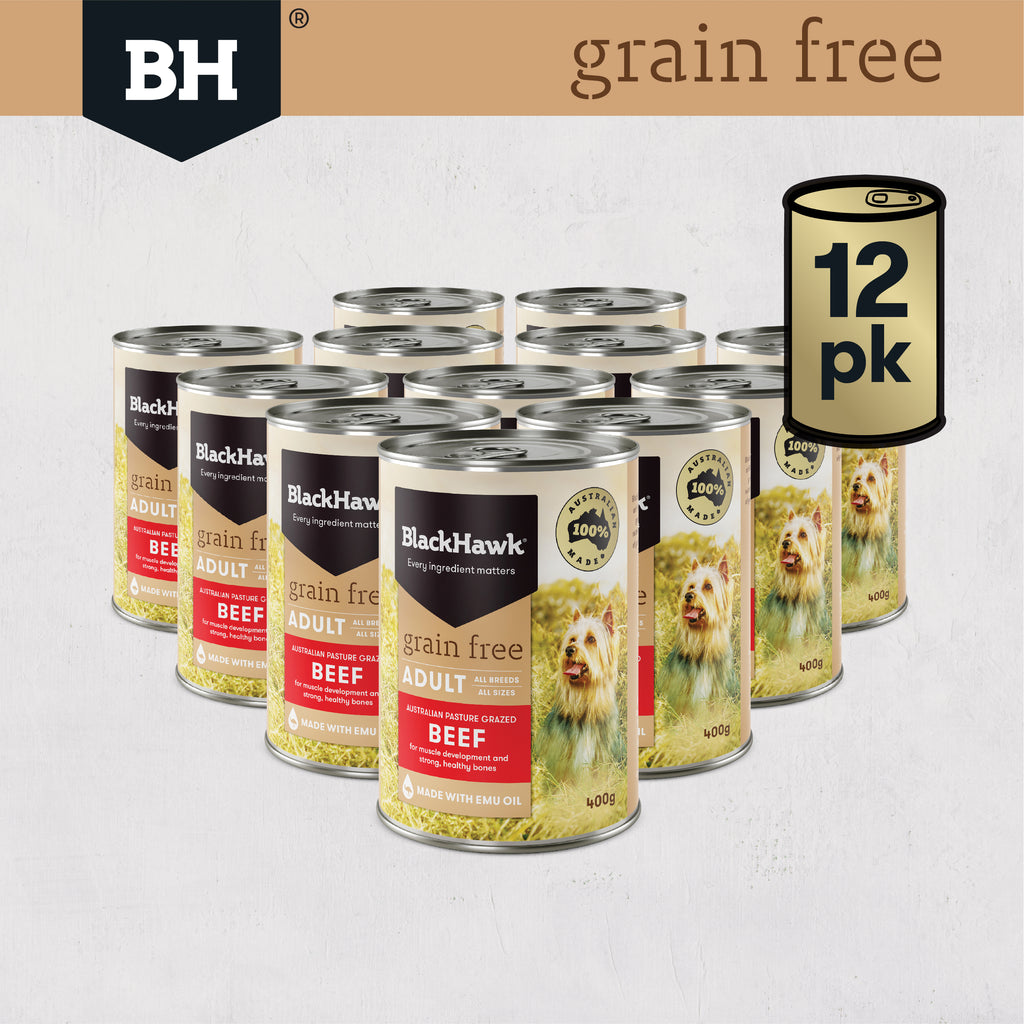 Product Information
BlackHawk Grain Free Beef Wet Food For Dogs - Bundle Pack (12 x 400g)
Feeding better is living longer. What do you feed your dog?  
Black Hawk Wet Grain Free Beef delivers a tasty protein which contains amino acids to promote muscle and bone development. Formulated specifically with chondroitin and glucosamine which help to support active joints, it is also gentle on the stomach and skin with non-grain carbohydrates supporting digestive health. The recipe provides complete and balanced nutrition for your pet.
Why choose a Grain Free diet?
The absence of grain makes our food ideal for pets with specific dietary needs.  Grain Free diets deliver a different ingredient blend, and many find their dogs do exceptionally well in relation to skin and gut health.
Manufactured in Australia, we only use quality Australian sourced meats, vegetables and fruits, because nothing but the best is good enough for your best friend. We are extremely proud of our heritage and long-standing commitment to local farmers and regional communities through the ingredients that we buy and the local community programs we support. With zero grains, we add ingredients that matter: herbs, vitamins and minerals, which ensure our food tastes great and provides complete nutrition for on-going health and vitality. 
At Black Hawk every ingredient is about naturally nourishing your pet from the inside out.  Every ingredient has a nutritional purpose and is all about making sure your pet gets everything they need, and nothing they don't. Real meat, real veggies.
High in meat-based protein and delivering a distinct mix of non-grain carbohydrates, you'll never find artificial preservatives or flavours in Black Hawk. When it comes to our pets' nutrition, we understand that Every Ingredient Matters®.
• Australian beef is the number 1 ingredient 
• Gentle on stomach & skin
• Grain-free with highly digestible meat to help manage intolerances and sensitive guts 
• Made with emu oil which may help skin, coat and joints
• Complete and balanced for everyday feeding
Suitable for all breeds, over 12 months of age. 
Looking for dry food for your dog too? Check out Black Hawk adult dog food.