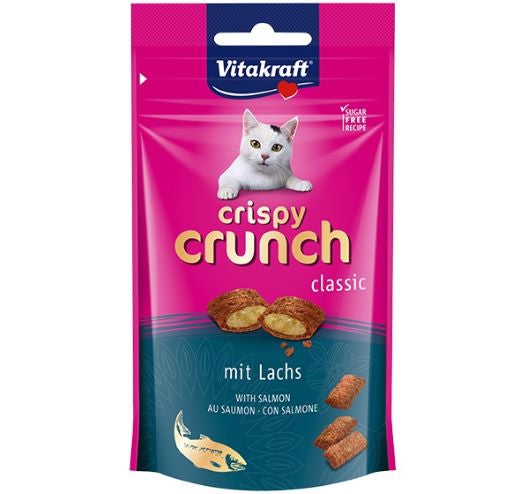 Product Information
Vitakraft Cat Treat Crispy Crunch Classic Salmon 60g
Chunks of pure pleasure! Thanks to their crisp coating and soft filling, Micio will be happy to be spoiled with these bundles of snacks, ideal as delicious rewards or as a snack between meals. Vitakraft Crispy Crunch, in their 60g pack, are not only exquisite, but also perform a specific action in favor of your cat's health.
FEATURES
Crispy cereal pillow with creamy filling
With digestible poultry
Sugarless recipe
Comes in a resealable bag
Ideal as a reward for pampering your feline
SUITABLE FOR
SIZE
INGREDIENTS
Cereals 35% (wheat, rice), Meat and animal by-products (poultry 22.5%), oils and fats, vegetable protein extracts, Vegetable by-products (wheat, cellulose), milk and dairy products.
NUTRITIONAL INFO
Protein 30.0%
Fat content 20.0%
Crude fiber 3.5%
Ash 5.0%
FEEDING GUIDE
Serve as a treat or snacks. Ensure adequate amount of fresh and clean water at all times