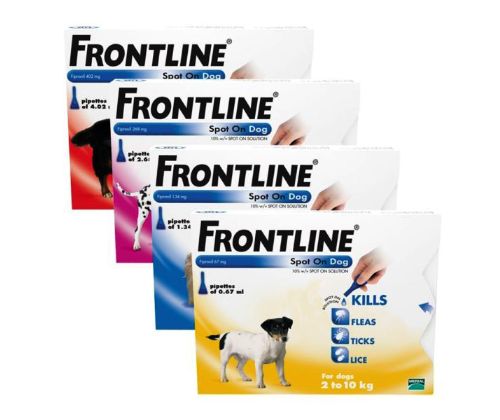 Product Information
FRONTLINE Spot On Flea & Tick Treatment Medium 1x3 PT
Frontline Spot On for Dogs is effective against flea infestation for approximately two months and against tick infestation for up to one month, depending on the level of environmental challenge.  Within 24 hours of landing on your pet, fleas are killed and the treatment lasts for up to one month.

Elimination of fleas (Ctenocephalides spp.) and insecticidal efficacy against new infestations with adult fleas persists for 4 weeks.
Prevention of the multiplication of fleas by inhibiting the development of eggs (ovicidal activity), larvae and pupae (larvicidal activity) originating from eggs laid by adult fleas for 6 weeks after application.
Elimination of ticks (Ixodes ricinus, Dermacentor variabilis, Rhipicephalus sanguineus). The product has a persistent acaricidal efficacy for up to 2 weeks against ticks (based on experimental data).
Elimination of biting lice (Felicola subrostratus).
48 hours after application pets can swim or be bathed as normal.