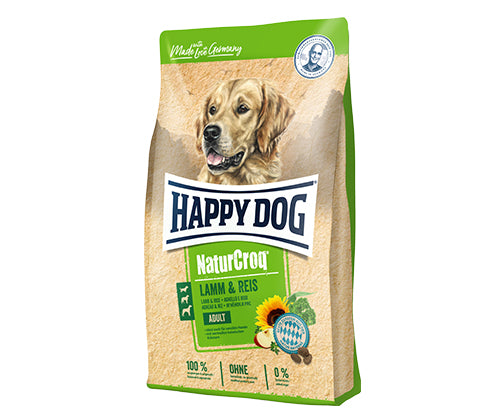 Product Information
NaturCroq Lamb and Rice

NaturCroq Lamb & Rice is food for adult dogs.
It is very digestible and ideal for sensitive dogs. NaturCroq Lamb & Rice is balanced dry food that is gentle on the stomach with nutritious lamb, easily digestible rice and a low fat content. The dog gets important Omega-3 and Omega-6 fatty acids from sunflower and rapeseed oil, which make your pet's coat healthy and shiny. The food is extremely tasty, also contains essential herbs. All products are made without artificial colourings, flavourings or preservatives in Germany.

Ideal for sensitive dogs
High content of herbs
Without sugar
Without genetic technology
This food does not contain any colouring, preservative, flavouring agents and GM foods. The highest quality guarantee of every product is a strict independent control. Moreover, foods of the brand aren't tested on animals.
Composition
Poultry protein*, whole wheat, whole grain maize, wheat flour, maize flour, whole grain barley, lamb protein* (8%), rice flour (8%), beet pulp* (desugared), poultry fat, beef fat , hydrolised liver, fish meal, sunflower oil (0.8%), apple pomace* (0.8%), yeast*, potassium chloride, rape oil (0,2%), sodium chloride, green oat*, sunflowers*, cress*, parsley*, (total green herbs: 0.3%).
* dried
Additives
Vitamin A (3a672a) 10250 I.E., Vitamin D3 (3a671) 1000 I.E., Vitamin E (all rac alpha-tocopheryl acetate 3a700) 60 mg, Vitamin B1 (thiamine mononitrate 3a821) 4 mg, Vitamin B2 (riboflavin) 6 mg, Vitamin B6 (pyridoxine hydrochloride 3a831) 3 mg, Biotin ( D (+) - biotin 3a880) 350 µg, Pantothenic acid (calcium D-pantothenate 3a841) 10 mg, Niacin (3a314) 45 mg, Vitamin B12 60µg, Iron (E1; ferrous (II) sulfate; monohydrate 3b103) 80 mg, Copper (E4; copper (II) sulfate pentahydrate 3b405) 8 mg, Zinc (zinc oxide 3b603; amino acid zinc chelate; hydrate 3b606) 80 mg, Manganese (E5; Manganese (II) oxide 3b502) 5 mg, Iodine (calcium iodate; anhydrous 3b202) 2 mg, Selenium (E8; sodium selenite) 0.15 mg.
Antioxidant: Tocopherol extracts from vegetable oils 1b306 (i).