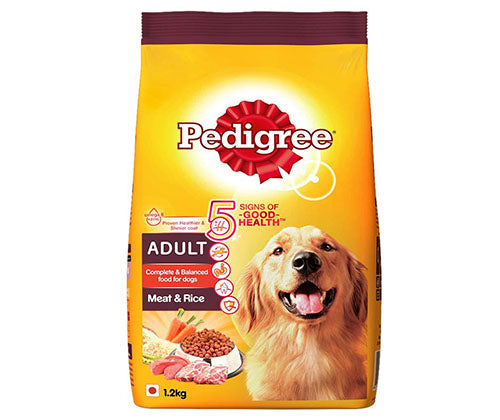 Product Information
Pedigree Meat & Rice 1.2Kg  - Adult Dog

PEDIGREE Dog Food - Meat & Rice is a healthy and complete meal for your adult dog, packed with proteins (from meat) & vitamins (from vegetables).

Ingredients
Pedigree dog food is made with Meat and Meat by-products, Vegetables and Vegetable by-products, Vegetable oils, Iodized salt, Essential Vitamins and Minerals, Cereals and Cereal by-products, Permitted Preservatives, Antioxidants and Flavors, No beef or pork.

Complete & balanced dog food.

Contains 20% crude Protein, 10% crude Fat, and 5% crude Fibre

.

Provides strong muscles, bones & teeth and healthier & shinier coat

.

Promotes Digestive Health and supports Natural Defences

.

Provides dogs the 5 Signs of Good Health - a PEDIGREE assurance !

Dogs need 2x Calcium, 2.5x Iron & 9x Vitamin B12 than humans.

Ideal for Pugs, Beagle to Labrador, Golden Retriever & German shepherd.