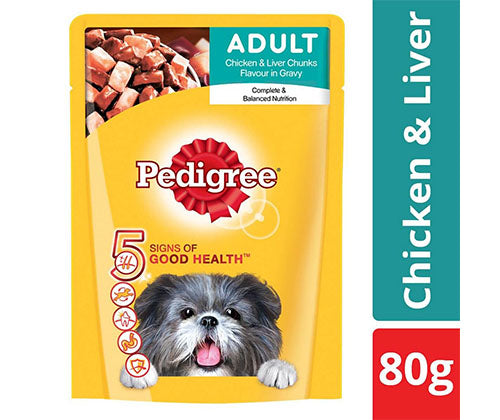 Product Information
Pedigree Chicken & Liver CIS Pouch 80g - Adult Dog

Pedigree Gravy adult dog food is 100% complete and balanced. Easy to feed, it consists of high-quality ingredients, with the essential nutrition required to keep your pet happy and healthy. You can also add Pedigree Gravy to regular dry pet food or home-cooked food to serve up a meal that your pet will love.
Complete & balanced dog food, a perfect diwali gift for adult dog.

Moist chicken chunks gently cooked in healthy gravy, retaining vitamins.

Helps improve water content and reduces risk of stones

.

Can be mixed with pedigree dry dog food or home cooked food.

See 5 signs of good health in just 6 weeks - a pedigree assurance !

Formulated by research done by the Waltham Centre for Pet Nutrition

.

Ideal for Pugs, Beagle to Labrador, Golden Retriever & German shepherd

.