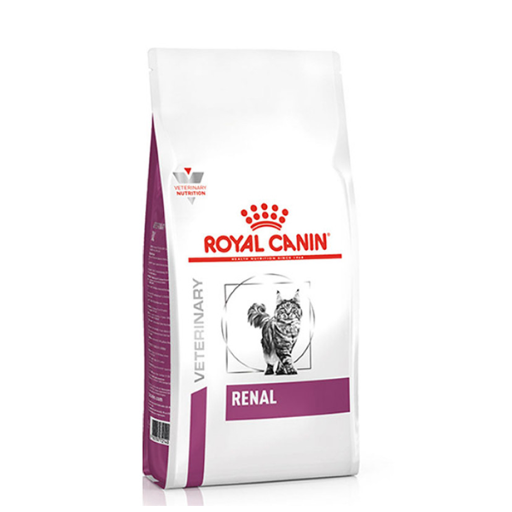 Product Information
Royal Canin Renal Cat 2kg
Description : ROYAL CANIN® Renal dry is a complete dietetic feed for cats formulated to support renal function in the case of chronic renal insufficiency, through its restricted levels of phosphorus and high-quality proteins. Renal dry is also formulated to reduce oxalate stone formation through its low level of calcium and Vitamin D, and its urine alkalizing properties.
Analytical constituents: Protein 23.0% (min.), Fat 17.0% (min.), Calcium 0.60% (min.), Phosphorus 0.30% (min.), Ash 5.90% (max.), Crude Fiber 4.60% (max.), Moisture 5.50% (max.), EPA/DHA: 0.42%, Carbohydrates (NFE): 44%, Dietary fibre: 10.70%, Omega 3: 0.95%, Omega 6: 3.35%, Sodium: 0.40g, Potassium: 0.90%, Magnesium: 0.07%. Metabolisable energy: 392.10 kcal/100g.

Composition: Maize flour, rice, animal fats, wheat gluten**, maize, soya protein isolate*, vegetable fibres, maize gluten, minerals, hydrolysed animal proteins, chicory pulp, fish oil, soya oil, mono - and diglycerides of palmitic and stearic acids esterified with citric acid, psyllium husks and seeds, fructo-oligosaccharides, marigold extract (source of lutein). Protein sources: wheat gluten*, soya protein isolate*, maize gluten, hydrolysed poultry protein. * L.I.P.: protein selected for its very high digestibility.

Additives: Nutritional additives: Vitamin A: 21500 IU, Vitamin D3: 800 IU, Iron: 45 mg, Iodine: 4.5 mg, Copper: 14 mg, Manganese: 58 mg, Zinc: 153 mg, Selenium: 0.08 mg - Technological additives: Clinoptilolite of sedimentary origin: 10 g - Preservatives - Antioxidants.
| Cat's adult weight (kg) | Thin | Thin | Normal | Normal | Overweight | Overweight |
| --- | --- | --- | --- | --- | --- | --- |
| - | grams | cup(s) | grams | cup(s) | grams | cup(s) |
| 2 | 39 | 3/8 | 32 | 3/8 | 26 | 2/8 |
| 2.5 | 46 | 4/8 | 38 | 3/8 | 30 | 3/8 |
| 3 | 52 | 4/8 | 43 | 4/8 | 35 | 3/8 |
| 3.5 | 58 | 5/8 | 48 | 4/8 | 39 | 3/8 |
| 4 | 64 | 5/8 | 53 | 4/8 | 42 | 4/8 |
| 4.5 | 69 | 6/8 | 58 | 5/8 | 46 | 4/8 |
| 5 | 74 | 6/8 | 62 | 5/8 | 50 | 4/8 |
| 5.5 | 80 | 7/8 | 67 | 6/8 | 53 | 4/8 |
| 6 | 85 | 7/8 | 71 | 6/8 | 57 | 5/8 |
| 6.5 | 90 | 1 | 75 | 6/8 | 60 | 5/8 |
| 7 | 95 | 1 | 79 | 7/8 | 63 | 5/8 |
| 7.5 | 99 | 1 | 83 | 7/8 | 66 | 6/8 |
| 8 | 104 | 1+1/8 | 87 | 7/8 | 69 | 6/8 |
| 8.5 | 109 | 1+1/8 | 91 | 1 | 72 | 6/8 |
| 9 | 113 | 1+1/8 | 94 | 1 | 75 | 6/8 |
| 9.5 | 118 | 1+2/8 | 98 | 1 | 78 | 7/8 |
| 10 | 122 | 1+2/8 | 102 | 1+1/8 | 81 | 7/8 |